Tsurumi highlight 90
Last update date November 1, 2018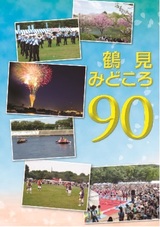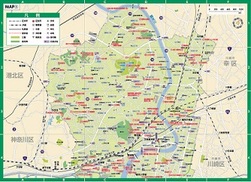 "Tsurumi highlight 90" (cover & map) that is PDF edition (PDF: 9,347KB)
---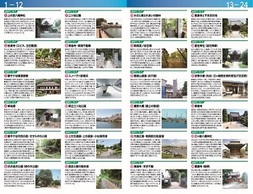 "Tsurumi highlight 90" (explanation 1-48) that is PDF edition (PDF: 14,189KB)
---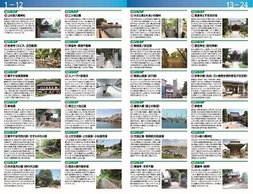 "Tsurumi highlight 90" (explanation 49-90) that is PDF edition (PDF: 13,716KB)
---
The town of Tsurumi is hill country which is full of green in metropolitan area and the Tsurumi River of the first-grade river, town of history that former Tokaido goes along and unique town having foundation of the Japanese modernization and four faces called seaside part playing a key role of Keihin industrial area where it was located at the northeastern part of Yokohama-shi.
This "Tsurumi highlight 90" was chosen based on application from many ward inhabitants in commemoration of Tsurumi Ward reaching the constituency system 90th anniversary, had "highlight" which could be proud of new Tsurumi apply from ward inhabitants while succeeding to "Tsurumi highlight 80" that chose by open call for participants from ward inhabitants in commemoration of the Tsurumi constituency system 80th anniversary, and considered in business executive committee of the 90th anniversary of Tsurumi constituency system from the viewpoint of famous place, historic spot, scenery view, cityscape, building, building of scenery, and chose 10 years ago.
If there is well known standard "highlight" among Tsurumi, secret "highlight" which is not still known too much is published in this guidebook. We have one hand walk the town of Tsurumi by this guidebook, and how about rediscovering charm of Tsurumi?
"Tsurumi highlight 90" June, 2017 issuance 
Editing, issuance
Business executive committee of the 90th anniversary of Tsurumi constituency system
3-20-1, Tsurumichuo, Tsurumi-ku, Yokohama-shi Tsurumi Ward government office
The choice, editing
Cooperative body
Meeting/downstream net, Tsurumi of meeting/Tsurumi history of Tsurumi highlight guide
Place to arrange
Tsurumi Ward the first floor of the government office government building guidance window, the fifth-floor second Regional Promotion Division
※Because of favorable reception, we would like copy per person very much.
Instructions at the time of visit
When 1 Shinto shrine, temple are visited, please note religious courtesy, manners enough. Attention in particular is necessary at special events such as ceremonial occasion.
"Highlight" which needs permission beforehand on entering has of 2.
You identify as the outdoors, indoor in management departments, and, about 3 photography, please photograph after getting permission.
Information that 4 places is thing as of June, 2017. Please note that publication contents may be different from the current situation.
※ We do not offer photograph published in guidebook.
Adobe Acrobat Reader DC (old Adobe Reader) is necessary to open file of Portable Document Format.
Person who does not have can download free of charge from Adobe company.


To downloading of Adobe Acrobat Reader DC
Inquiry to this page
Tsurumi Ward General Affairs Department Regional Promotion Division
Telephone: 045-510-1687
Telephone: 045-510-1687
Fax: 045-510-1892
E-Mail address [email protected]