Yokohama former Tokaido "it rises walk sugoroku"
Last update date June 18, 2019
Five wards of Tokaido roadside and Culture and Tourism Bureau of Tsurumi Ward, Kanagawa Ward, Nishi Ward, Hodogaya Ward, Totsuka Ward shared, and "Yokohama former Tokaido rose and made walk sugoroku" to have children learn former Tokaido of Yokohama happily in Yokohama-shi.
We run through former Tokaido of Yokohama while sugoroku having item card and quiz card, and not only throwing the dice, and pushing forward piece, but also making full use of card.
It is available in Tsurumi Ward at the next place and performs rental.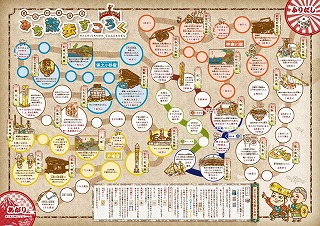 The use, rental possibility place of "Yokohama former Tokaido it rises walk sugoroku"
In Tsurumi Ward, the use, rental is possible at the next place. For more details, please refer to ward office Ward Administration Promotion Division (Phone: 510-1676).
Tsurumi Ward government office Ward Administration Promotion Division Planning and Adjustment Section
District center in ward
Community house in ward
Tsurumi library
Former Tokaido roadside Elementary School (market Elementary School, Tsurumi Elementary School, Toyooka Elementary School, Namamugi elementary school, Kishiya elementary school)
Collection of links about Yokohama former Tokaido