Is together; inhabitant of a ward activity center
Last update date July 31, 2020
We support ...! Your citizen (area) activity, lifelong learning activity ...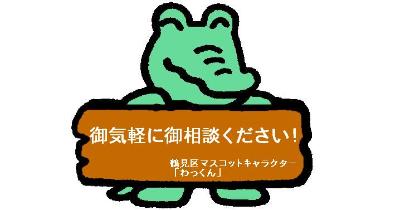 "We want to learn history of Tsurumi!" "We want to know the highlight of Tsurumi!"
"We want to begin PC!" "Header that there is not some recommended course"
Person who wants to begin some activity from now on,
"You are together, and come to consultation by all means to inhabitant of a ward activity center".
We support your mana bito yaruki.
Is together; about the future use of inhabitant of a ward activity center
About the present correspondence to avoid three dense (sealing, crowd, closeness)
We change usage as follows for the time being. We would appreciate your understanding, cooperation.
Period
We carry out from June 1, 2020 (by the situation, we are going to review at good time.)
[to all of you visited an office ask usage]
・I would like cooperation of mask wearing.
・As for the consultation at window, please give me the next agency after reservation on the telephone beforehand as possible.
・Please inquire for rental of machine parts and the use of work corner beforehand.
・Person needing hydration would appreciate your bringing drinks by yourself beforehand.
About facilities (meeting room or meeting space) which only all of the registration groups can use, part of usage is changed.
Is together; use of inhabitant of a ward activity center guidelines (PDF: 469KB)
<inquiry>
Is together; inhabitant of a ward activity center Phone number 510-1694 fax number 510-1716
Email [email protected]
August 2, 2020 (every month first Sunday)
Hospital of book       Thursday from 13:00 to 15:00 every month fourth on August 27
Saturday from 10:00 to 12:00 (activity of December takes a rest) every month fourth on hospital August 22 of toy
Citizen's experience-based course "string comfort taimu" 
We come, and where does dragonfly of mysterious - Tsurumi of dragonfly fly to from where? ...
Lecturer: Where does dragonfly fly to; forum
⇒Flyer (PDF: 624KB)
The date and time, place: 14:00-16:00 Tsurumi Ward the second floor of the government office copulates on Saturday, July 25; inhabitant of a ward activity center
9:00-11:00 JFE dragonfly rises on Sunday, July 26 (bus stop gathers in Ono-machi)
※8/1 transfer day Saturday time for 7/26 rainout: 9:00-11:00 place: Irifune park
Object: Primary schoolchild (as for third grader or younger, as for protector companion, fourth grader or more, possible one participation)
Capacity: Five sets of first arrival (two sets)
Entrance fee: Free of charge
Belonging: Mask, water bottle, hat, towel, writing utensils (insect net prepares)
Reception desk: 7/11 Saturday 9:00 ... start
Application method: To telephone, fax, email of our center or window, please let know required items (full name, Phone number, age).
Inquiry: We are together, and inhabitant of a ward activity center calls: 045-510-1694 fax: 045-510-1716
        Email: [email protected]
※For prevention of new coronavirus infection, event may be called off depending on the situation.
 Please refer to our center for the held right or wrong.
Is together; workshop ② book course by MACHI cram school ① Zoom
① Let's make use in study biya living! Online meeting experience workshop 
Zoom interchanges with Zoom experience for the first people.
The date and time: Saturday, August 29 14:00-16:00 (opening 13:30 ...)
Application: From Saturday, August 15 to Friday, August 21
Application method: Only as for the email, it is [email protected]
Attendance condition: Residence, working first, Zoom experience in ward
Capacity: After ten lotteries, we will tell about the right or wrong of attendance by email on Monday, August 24.
Sponsorship, venue: Is together; inhabitant of a ward activity center ☎510-1694 FAX 510-1716
⇒Flyer (PDF: 463KB)
② History - of Tsurumi whom we are together, and MACHI cram school - inhabitant of a ward recites
This course schedules all six times (Egasaki, Namamugi, Shiota, Komaoka, Sueyoshi , Terao) from September.
Other than venue attendance, we are preparing for attendance by ZOOM this year.
For details, we will tell by public information some other time.
Is together; inhabitant of a ward activity center INDEX

Notice of facility
Facilities
Rental machine parts

Activity, learning activity information paper "warm;"
Person from Tsurumi net
Usage
Local action information (the outside site)
  ※We move to external link.
  ※Linked group and contents cried under Yokohama-shi and the management of Tsurumi Ward,
   City, ward shall not take any responsibility about them.
When you check Tsurumi, you are together, and please use book of inhabitant of a ward activity center!
   We made list of books (PDF: 161KB). (registration is necessary for rental)
■The use time
From Monday from Sunday 8:45 to 17:00
※On Wednesday from 8:45 to 21:00
(we do lounge for facility check day, New Year holidays)
■Lounge day
Every month first Sunday
■About doorway in Tsurumi Ward government office shut agency
On the use of the every Wednesday night (from 17:00), Saturdays, Sundays and holidays,
Please be included from fire department side doorway (night doorway) (PDF: 102KB).
For more details, you are together, and please ask inhabitant of a ward activity center.
Adobe Acrobat Reader DC (old Adobe Reader) is necessary to open file of Portable Document Format.
Person who does not have can download free of charge from Adobe company.


To downloading of Adobe Acrobat Reader DC
Inquiry to this page
Is together; inhabitant of a ward activity center
Telephone: 045-510-1694
Telephone: 045-510-1694
Fax: 045-510-1716
E-Mail address [email protected]