Is together; "spread, is play mind workshop for adult child care, unit breeding forum pre-plan! Power to grow up in play"
Last update date September 2, 2019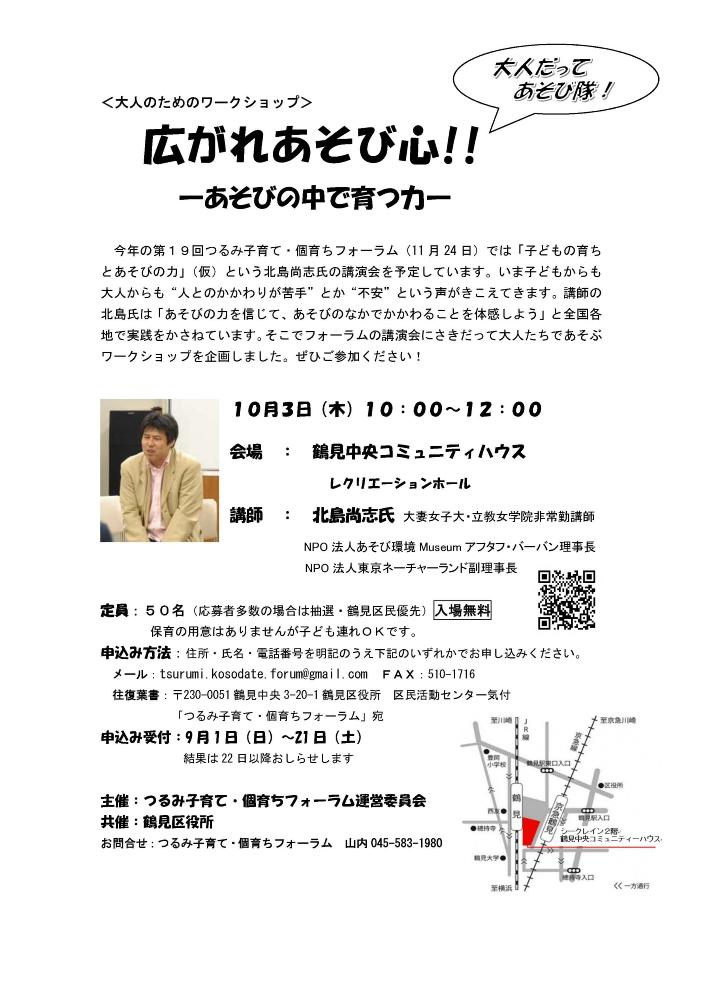 We wait for application!
Sponsorship, the cosponsorship
Sponsorship: Is together; child care, the unit breeding forum governing board
The cosponsorship: Tsurumi Ward government office
The holding date and time, place
Thursday, October 3, 2019 10:00-12:00
Tsurumichuuo community house recreation hall
Hisashi Kitajima
Otsuma Women's Univ., Rikkyo women's university part-time teacher
NPO corporation play environment Museum afutafu bar van director
NPO corporation Tokyo nature land vice-director
50 (in the case of a lot of applicants, it is given priority to lottery, Tsurumi inhabitant of a ward)
There is not preparation for childcare, but is OK with child.
Clearly stating Address, full name, Phone number, apply by any of the following method.
[email]
[email protected]
[FAX]
510-1716
[double postal card]
〒230-0051
C/o 3-20-1, Tsurumichuo, Tsurumi-ku Tsurumi Ward government office inhabitant of a ward activity center
"Is together child care is addressed to unit breeding forum"
From Sunday, September 1, 2019 to Saturday, September 21
※Application with double postal card must arrive by Saturday, September 21
※We will tell about result after 22nd.
◆Is together; child care, the unit breeding forum governing board
Yamauchi
TEL045-583-1980
Adobe Acrobat Reader DC (old Adobe Reader) is necessary to open file of Portable Document Format.
Person who does not have can download free of charge from Adobe company.


To downloading of Adobe Acrobat Reader DC
Inquiry to this page
Tsurumi Ward government office Regional Promotion Division
Telephone: 045-510-1695
Telephone: 045-510-1695
Fax: 045-510-1892