Basic information of Nishi Ward Office, traffic access
Last update date July 2, 2019
The location, Hours of ward office
The location, Phone number, open agency day, time, parking lot of ward office
The location

Nishi Ward Office 1-5-10, Chuo, Nishi-ku, Yokohama-shi
Paradise tree office 12-6, Hamamatsucho, Nishi-ku, Yokohama-shi

Telephone

045-320-8484 (main)

Weekday open agency day
Window Reception hours

From Monday to Friday (except holiday, holiday, from December 29 to January 3)
From 8:45 a.m. to 5:00 p.m.
※In Nishi Ward Office, we carry out window duties in the whole section in time from twelve noon to 1:00 p.m.
Please note that you may have to wait depending on contents of some duties and consultation until 1:00 p.m.

The second fourth Saturday open agency
Please see "announcement of second fourth Saturday open agency" page
Parking lot

Only parking bay one for wheelchair user and slight number can park in parking lot of Nishi Ward Office for eight in site.
When it is done the next agency, please use public transport as much as possible.
About the details such as parking rates, please see this "parking lot guidance".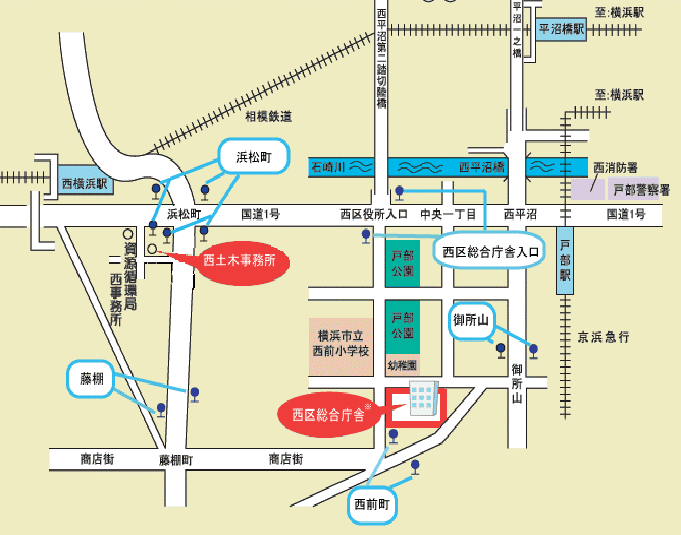 ---
Nishi Ward synthesis government building

The location: 1-5-10, Chuo, Nishi-ku
By train: Keikyu "Tobe Station" 8-minute walk, Soutetsu Line "Hiranumabashi Station" 10-minute walk
By bus: Municipal management 292 system "in front of Nishimaecho bus stop" about 1 minute on foot, municipal 9/102/106 system, shinnachu 77 system "Nishiku-sogo-chosya-iriguchi bus stop" about 3 minutes on foot
Municipal management 103 system "in front of Goshoyama bus stop" about 3 minutes on foot
Paradise tree office

The location: 12-6, Hamamatsucho, Nishi-ku
By train: Soutetsu Line "Nishi-Yokohama Station" 5-minute walk
By bus: Municipal management 9/28/32/53/68/102/106/212 system, shinnachu 77 system, Soutetsu Line bus "Hamamatsucho" about 2 minutes on foot
Inquiry to this page
Nishi Ward General Affairs Department General Affairs Division
Telephone: 045-320-8308
Telephone: 045-320-8308
Fax: 045-322-9847
E-Mail address [email protected]