Work of Midori Ward character midorin
Last update date June 18, 2020
Work downloading of midorin
Please produce thing to use paper pattern for after printing on paper of A4 size with printer.
As anything is simple work, you make casually together, and please enjoy. In addition, please create small child with person of adult as you use cutter and scissors.
Contribution of photograph "which we made!" is welcome. Email title "midorin work" adds the name or nom de plume to the email text, and please send person posting to [email protected].
※When you can let contribution that we had be released in Midori Ward homepage or public information Yokohama, please list so in the email text
[paper pattern, how to make] How to make, design (PDF: 77KB) of applique
[thing to prepare] Green felt (face), black cloth (eyes. ) which we do not need when we embroider eyes, pink felt (cheeks. ) which we do not need when we embroider, black thread, green thread, pink thread, scissors
Paper plate theater of midorin
midorin gobbles up apple and watermelon!
[paper pattern, how to make] Paper pattern and how to make paper plate theaters (PDF: 208KB)
[thing to prepare] Paper pattern which we printed with printer of A4, paper plate two pieces, seaweed, scissors
midorin to make with woolen yarn
[paper pattern, how to make] Paper pattern and how to make woolen midorin (PDF: 206KB)
[thing to prepare] Paper pattern which we printed with printer of A4, green woolen yarn, woolen yarn of favorite color, black button, felt (pink, red, orange, yellow), scissors, bond, cardboard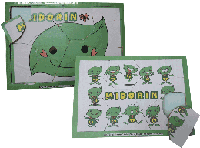 [paper pattern, how to make]
[thing to prepare] Paper pattern, corrugated cardboard (at size one size same in the one for puzzle for base than A4 two), paste, bond, cutter, colored paper (even if there is not possible) for woodwork which we printed with printer of A4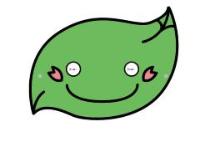 [paper pattern, how to make]
[thing to prepare] Paper pattern which we printed with printer of A4, paper, seaweed of hardness of calendar, cellophane tape, rubber band two, scissors, cutter, perforator punch or drill
The Star Festival round fan, strip of paper
[paper pattern, how to make]
[thing to prepare]
Paper pattern, cardboard (empty box of cake, milk pack which we washed and dried and cut open), scissors, cutter, seaweed which we printed with printer of A4
[paper pattern, how to make]
[thing to prepare] Paper pattern, cardboard (empty box of cake, milk pack which we washed and dried and cut open), scissors, cutter, seaweed, cellophane tape, cover, disposable chopsticks of plastic bottle which we printed with printer of A4
Become completely; midorinfotofuremu
[paper pattern, how to make]
[thing to prepare] Paper pattern, cardboard (empty box of cake, milk pack which we washed and dried and cut open), scissors, cutter, seaweed, cellophane tape, board magnet which we printed with printer of A4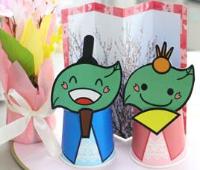 [paper pattern, how to make]
[thing to prepare] Paper pattern which we printed with printer of A4, paper cup two, cardboard (empty box of cake, milk pack which we washed and dried and cut open), scissors, cutter, seaweed, cellophane tape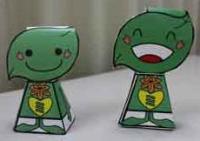 [paper pattern, how to make] Paper pattern of paperwork
[thing to prepare] Paper pattern, cardboard (empty box of cake, milk pack which we washed and dried and cut open), seaweed, scissors which we printed with printer of A4
Work Terms of Use of midorin
The personal use is free to do principle. But we prohibit about the next matter.
Redistribution of data
The for-profit use and use that becomes disadvantageous of affiliate
Adobe Acrobat Reader DC (old Adobe Reader) is necessary to open file of Portable Document Format.
Person who does not have can download free of charge from Adobe company.


To downloading of Adobe Acrobat Reader DC