Weekly water supply tech job
We send information a week from the Water Works Bureau staff.
Last update date July 13, 2020
Monday, July 13, 2020 "international contribution of Water Works Bureau"
We introduce "international contribution" this time.
We accept overseas deployment of staff and overseas water supply engineer (member of training) and have been contributing to improvement of water supply business of developing country in City of Yokohama, Water Works Bureau for many years.
We make use of experience by daily duties and, by overseas deployment, are engaged in local problem solution in Asia and each African country. In addition, by acceptance of member of overseas training, we perform the training such as lecture, inspection, training by the staff.
All staff has chance about international contribution. For more details, please refer to approach of international contribution.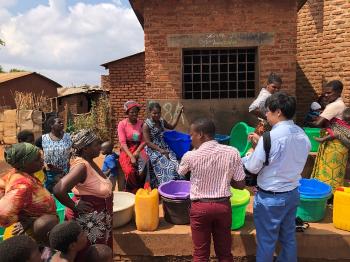 Local activity in Malawian country Lilongwe water public corporation

Acceptance of member of public corporation training

It is the spot of work
Hello. It is Heisei 31 (Raiwa 1) entering the agency, the second-year water supply tech job.
I am conducting affairs about water pipe repair now. We go out and, as well as desk work, often work.
We feel growth and spend satisfying days while being taught various things by the senior staff, and learning every day.
By the way, application for employment examination began on June 25. I was interested in "international contribution" of City of Yokohama, Water Works Bureau two years ago, too and decided examination.
Application for examination is this.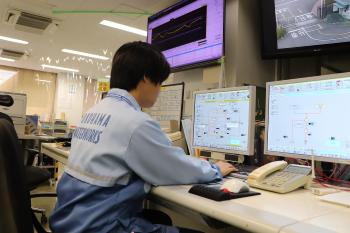 Water purification plant driving management
Hello. It is 2017 entering the agency, the first batch (the fourth year) of water supply tech job.
There are the first personnel transfers for oneself and performs driving administrative task this year at water purification plant from April.
At water purification plant, we manage many facilities and facilities appropriately and manage infusion of medicine in the outbreak situation of result of examination of water and living thing included in Haramizu in total and make tap water with 24 hours. It may be difficult to make tap water which 3.7 million Yokohama citizens can drink in peace, but feels that it is job that there are many moments to feel the amount worth doing.
About Monday, June 22, 2020 "house support"
It is introduction of "house support" this time.
As water supply tech job has many people from outside the prefecture, we launch business to lend house temporarily from this year.
Room has good sun, view on the fourth floor.
We can look around cityscape of Yokohama from veranda.
There is Shimin-no-Mori near and can enjoy Yokohama life that there is a lot of greenery.
As for the details, please see this.
Sender: Asset utilization section 2016 entering the agency desk job
Hello. It is 2018 entering the agency the third-year water supply tech job.
Even at the time of disaster, we even usually conduct affairs to manage direction, the quality of the water of quantity and flow of water in water pipe so that water which is beautiful, and is safe from faucet appears.
Nothing knows the channel and entered with being uneasy, but by having learned much knowledge and techniques from senior, work happily now.
There are both desk work and the spot work and is worthwhile as we can do various works.
It is restraining itself under the influence of new coronavirus recently, but it is one of the pleasure that does girls-only gathering with the young staff for the work end!
Hello. It is 2019 entering the agency the second-year water supply tech job.
In the workplace called Kikuna Channel office, we call at home of customer and perform investigation into water leak and quality of the water, water outage for water pipe construction, cleaning work in water pipe.
For work very near customer, we may have words of thanks directly, and such, untying is worthwhile for joy at all.
We grow up remarkably every day as we can be taught work by seniors well on the site (!) We are doing.

It is the workplace scenery of personnel department
Thank you for you seeing.
We will do daily work and life, introduction of system from the Water Works Bureau staff every week from now on.
For reference that everybody thinks about workplace…No, if you can want to find work in City of Yokohama, Water Works Bureau! We are thinking about this.
Thank you.
Sender: All the Water Works Bureau personnel department staff
Inquiry to this page
Water Works Bureau General Affairs Department personnel department
Telephone: 045-671-3110
Telephone: 045-671-3110
Fax: 045-212-1156
E-Mail address [email protected]