It is support ... in Yokohama-shi Zoo fund - hometown tax at zoo
Last update date April 1, 2019
We set up "Yokohama-shi Zoo foundation" to push forward international contribution to maintenance of biological diversity and improvement of zoo. For fund, we save contribution from all of you and introduce animal to work on breeding based on this from foreign countries and push forward maintenance and endangered wild animal reproduction at zoo.
We can receive kind treatment in the taxation system when we will cooperate.
It inflects to expense (animal collection, associated facility repair) in conjunction with collection of animals which are essential for zoo.
Approach of zoo of Yokohama
Animal which propagates only at zoo of Yokohama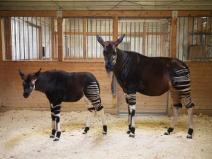 Okapi

Dirt reed doek langur
Animal with a little number of the domestic breeding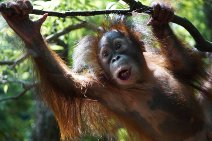 Borneo orangutan

Koala
When we have you contribute
We present two pieces of "tickets to person who had contribution more than 11,000 yen with all with one piece of "passport aimlessly" in the year common throughout Yokohama zoo, Kanazawa Zoo". (with change of hometown tax system, we changed amount of money from April 1, 2019.)
Person who had you apply, please choose annual passport of design you like from gourd Bo of A) dirt river hog B) dirt river hog.
Zoo comes over with annual passport, and please see result of charm and approach of zoo of Yokohama by all means!
That deal with use of annual passport; is careful
Zoo which can enter a kindergarten: Yokohama Zoo ZOORASIA, Kanazawa Zoo ※Nogeyama Zoo can enter a kindergarten free.
Validity: It is one year after the reception desk at admission window of the zoo mentioned above
Deadline for window receptionist: Passport of design of "wild boar", please perform user registration at window by March 31, 2020.
Others: Re-grant or update are not possible.
Please refer to "manual about annual passport" sending and "use of annual passport article" for the details after the application later.

A) Dirt river hog

B) Gourd Bo of dirt river hog
Design changes every year.
Before delivery of passport, we have time from one month to around two months from contribution.
2018 contribution results report
We thank person who had you contribute.
Contribution from April 1, 2018 to September 30, 2018
40/500,000 yen
Among all of you who had you contribute during the period mentioned above, we announce "full name" of person agreed with for publication or "full name and contribution amount of money".
Person agreed with for publication only for full name transcribes amount of money column in "-".
List of 2018 contribution results

| Full name | Amount of money |
| --- | --- |
| Yu Kashima | 10,000 yen |
| Shingo Saito | 20,000 yen |
| Kotoyo Shirato | 20,000 yen |
| Takashimaya Co., Ltd. | - |
| Wataru Urushibata | - |
| Japan fishing article industry society | 20,000 yen |
| Satoshi Suzuki | 10,000 yen |
| Tsuneo Koba | 10,000 yen |
| Akiko Kato | 30,000 yen |
| Shuntaro Kojima | 10,000 yen |
| Rintaro Miyake | 10,000 yen |
| Atsushi Kuwabara | 10,000 yen |
| Masaki Yoshiike | 10,000 yen |
| Yuki Katsumata | 10,000 yen |
| arisu animal ophthalmology clinic | ― |
| Ai Kagami | - |
| - | - |
| - | - |
| - | - |
Procedure of contribution
There are two next methods.
Application with contribution application
You fill in contribution application with required items, and please send by mail or fax, method of E-mail either to application.
Contribution application style PDF (PDF: 121KB), style word (PDF: 121KB)
Application: It is addressed to the City of Yokohama, Environmental Planning Bureau zoo section Yokohama-shi Zoo fund person in charge
Mail: 〒 231-0017 1-1, Minatocho, Naka-ku, Yokohama-shi
Fax: 045-633-9171
E-mail: ks-zoofund@city.yokohama.jp
We will send documents about payment by mail or E-mail later as soon as we confirm application for contribution.
Application by electronic application
With change of coding communication method, we have the following effects about the use of reception desk form of simple application system. Please refer to "movement environment of service" (PDF: 98KB) for movement environment after change.
We cannot use overall cell-phone (i-mode support model, Ezweb support model, Yahoo! mobile phone support model).
A part of the smartphone (before android OS4.4 before iOS4) is not available.
We can apply for electronic application from the following links.
We will send documents about payment by mail or E-mail later as soon as we confirm application for contribution
Preferential treatment of tax
In the case of personal one
Of the amount of residence tax income percent personal about remaining amount of money that deducted 2,000 yen from contribution amount of money about donation to zoo fund can almost subtract the amount of money equivalency sum concerned in conjunction with income tax as limit at 20%. Please refer to house ino municipality.
Please perform final income tax return in tax office having jurisdiction over the address ground to live between January and March 15 in the next year when you contributed. When you contributed for report, please keep carefully as "receipt" or "contribution receipt certificate" which we received is necessary.
When you receive only donation tax credit of personal residence tax, please declare to municipality to live.
In the case of corporation
In Corporate Tax Law, loss of money can count the total amount.
Adobe Acrobat Reader DC (old Adobe Reader) is necessary to open file of Portable Document Format.
We can download one that you do not have gratis from Adobe company.


To downloading of Adobe Acrobat Reader DC
Inquiry to this page
Environmental Planning Bureau greenery part Zoo section
Telephone: 045-671-4124
Telephone: 045-671-4124
Fax: 045-633-9171
E-Mail address ks-zoofund@city.yokohama.jp