Environment of Yokohama to connect to the future
It is public information printed matter which we gathered up about environment of Yokohama.
Last update date July 7, 2020
Environment (leaflet) of Yokohama to connect to the future
In leaflet of all 20 pages which issued the second edition in December, 2018, we write English reiteration word together with Japanese.
We settled pioneer antipollution measures of Yokohama-shi in the rapid economic growth period as archives and publish overall environmental measure of Yokohama.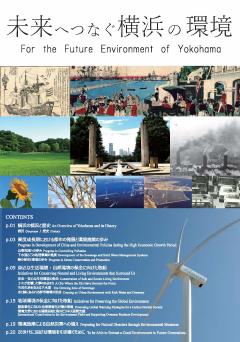 Contents
The general condition and history of Yokohama
Development of city in the period of high growth and step of environmental measure
Approach for maintenance of imminent living environment, natural environments
Approach for maintenance of global environment
The preparation to natural disaster by environmental measure
To succeed good environment in the next generation
What happens? Environment of Yokohama
With degree product for primary schoolchildren brochure who issued, we gathered about the environmental situation of the earth and environmental approach of Yokohama every year.
Brochure is the Kannon occasion.
Adobe Acrobat Reader DC (old Adobe Reader) is necessary to open file of Portable Document Format.
Person who does not have can download free of charge from Adobe company.


To downloading of Adobe Acrobat Reader DC
Inquiry to this page
Environmental Planning Bureau policy section environmental conservation charge
Telephone: 045-671-4102
Telephone: 045-671-4102
Fax: 045-550-4093
E-Mail address [email protected]