To person with impaired sight
Last update date January 25, 2020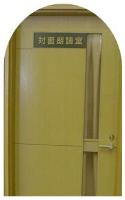 Meeting reading room entrance door
We perform service that reader reads book, magazine which he/she wants to read aloud. In the place, there is room for exclusive use of reading in library. Please reserve the visited date and time over telephones beforehand. Book you like, arrangement of material of thing that we offer or want to check of magazine may take time. Please consult at the time of reservation.
---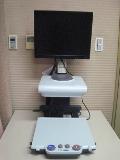 Extended reading device
We enlarge letter and figure of book and magazine to any size from 3 times to 45 times, and there is extended reading machine that we can read. Anyone can use. Please report to window.
---
About overall person with a disability service, please see service to impaired person of Municipal Central Library.
We come back to Midori Library top pe ji

Logo of Yokohama City Library
Inquiry to this page
Board of Education Secretariat Midori Library
Telephone: 045-985-6331
Telephone: 045-985-6331
Fax: 045-985-6333
E-Mail address [email protected]