Map
Last update date February 12, 2019
We held "change exhibition of Yokohama judging from map" as Chuo-toshokan plan display in 2015 (exhibition period: for from June 19, 2015 to July 20). It introduces a part of the map that contents of this plan display are collected in digital archive for the cause. You can see high-resolution image in digital archive when we click each image of map.
Digital archive Yokohama's Memory URL: https://www.lib.city.yokohama.lg.jp/Archive/ (the outside site)
gyokuransaikyohonken
Around 1860 (1860)
Size: 60*152cm
It opens by gokumotei*shu (gonteisadahide) (kyohongyokuran* (hashimotogyokuransai)) on behalf of Yokohama ukiyoe artist, and the town of shortly after Yokohama is depicted. When we draw map, *shu is good at overview map using issue called kyohongyokuran* (gyokuransaikyohonken). There is only ukiyoe artist, and coloration can say that it is work of art across simple map beautifully, too.
gokaikoyokohamakorezenzuzohosaikoku
gyokuransaikyohonken
Around 1866 (1866)
Size: 60*152cm
This place hardly changes with composition of "gokaikoyokohamakorezenzu" in zohosaikoku and is like search for mistake. Smoke goes up from ironworks, and long temporary bridge of 280 ken of length (about 510m) between fuku 3 is built from bank dried island (syukanjima) frontage over yamoura. This temporary bridge is made in (1863) in 1863, and it is said that we die and fell into (1867) in 1867.
Hashimoto Sadahide Gyokuransai
Around 1868 (1868)
Size: 66.8*101.1cm
We relocate port Sakimachi (miyozakicho) red light district to Yoshihara-cho in Yoshidashinden by big fire of (1866) in 1866, and the vacant land becomes Yokohama Park later. Temporary bridges from Zogahana described in "gokaikoyokohamakorezenzuzohosaikoku" to yamoura have already disappeared. The foreign waterfront becomes form that the tip bends, and is called "elephant's trunk".
shin* (shinsen) yokohamazenzumamajiaratamekoku
Five derivations building (patience) extreme longevity old man
1870 (1870)
Size: 103.0*129.5cm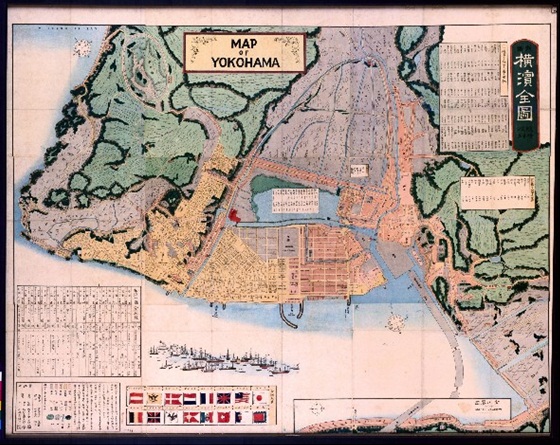 We draw the town of intense Yokohama of change just after the Meiji Restoration. It is not correct map based on actual survey, but way of thinking of reduced scale is shown, and lot number enters foreign settlement and is full-scale map which north, south, east and west are shown in. We can know residence of foreigner living in Yokohama when we read "living-in-port foreign country person's name abstract". hebon of doctor who is famous for Hepburn system of romaji is transcribed into "hebbon" and lives in the 39th, and beato of photographer is transcribed into "biato", and it is revealed that we lived in the 17th. Five derivations building extreme longevity (old man) is another name of Tomi Ozaki Goro.
Hashimoto Sadahide Gyokuransai
1871 (1871)
Size: 70.0*210.0cm

It is work which we created at the age of gokumotei*shu (kyohongyokuran*) 65 years old. Thing symbolizing Yokohama station, iron bridge, gaslight, the Westernization including ironworks is drawn and a large number of ships float in the offing and know way of development of town of Yokohama well. As it was that bridge of iron is shocking, we draw iron bridge at the time of in Yoshidabashi Bridge expressly as the other figure.
Yokohama measured drawing
The Department of the Interior geography station surveying section
1881 (1881)
Size: 100*170cm
There were relations with land tax reforms, and nationwide map manufacture of the early period of Meiji by actual survey was started as national business. In the case of Yokohama, it was published as "Yokohama measured drawing" in (1881) February in 1881. This map is large map of 180*116cm that we described Takigashira-mura of Isogo in from Kanagawa, Yokohama, Honmoku, and figure is land-register map which showed division for each each lot number, but city in the Meiji early days conveys the situation of Yokohama to advance to of making in now. (with "book of Yokohama cf. culture" Municipal Central Library opening memory magazine editing committee/edition Municipal Central Library 1994)
Improved Yokohama complete chart
Tomi Ozaki Goro (ozakitomigorou) edition
1890 (1890)
Size: 36.3*50.0cm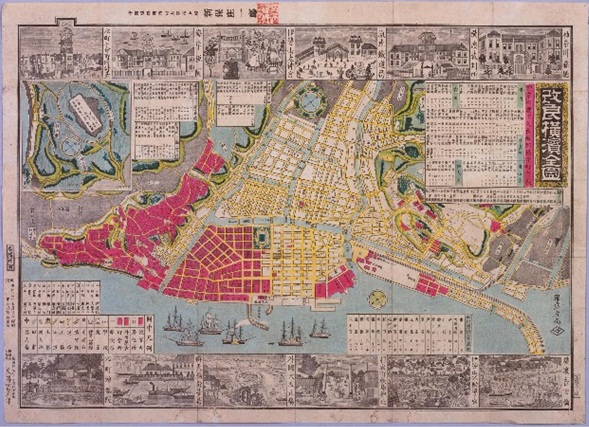 Municipal organization is enforced on (1889) April 1 in 1889, and Yokohama will develop more and more. It is revealed that there was name of a street that took the place name of various parts of Japan of Satsuma-cho, Hakodate-cho, Nagasakimachi, Godo-cho when we look at "settlement (kyoryuchi) name of a street list". However, these names of a street were abolished when settlement was abolished in 1899 by (1899). We arrange picture of 12 famous places of Yokohama for margin of top and bottom of figure. We would visit tourist attraction as guide map on such a map at the time of in what was compactized when we folded.
List of Yokohama real scenery depiction
Tomi Ozaki Goro edition
1891 (1891)
Size: 54*75cm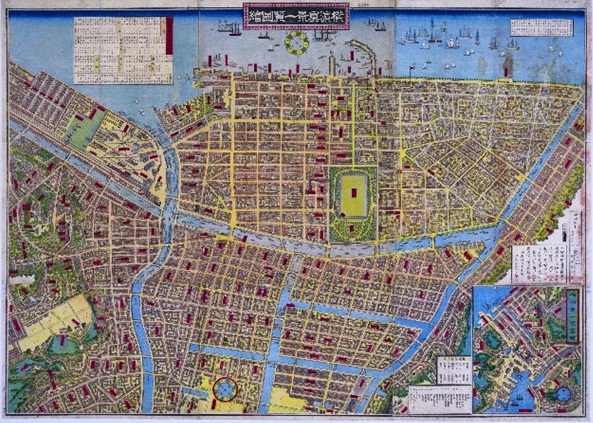 Person who performed publication, sales activities energetically in the town of Noge is Tomi Ozaki Goro. Other than pictorial map, we issued textbooks named English manual and "traffic thing" and dealt with sale such as picture (obtain) books bound in Japanese style (own). When this pictorial map is work of *gorobannen and reads manual, it is revealed that we described scenery of Yokohama as having looked at the city from balloon. Ship or bridge floating in river are described by careful brush progressing and tell in detail what kind of figure center of Yokohama was doing in those days.
Latest Yokohama-shi complete chart
Taro Oka edition
1913 (1913)
Size: 53.7*78.9cm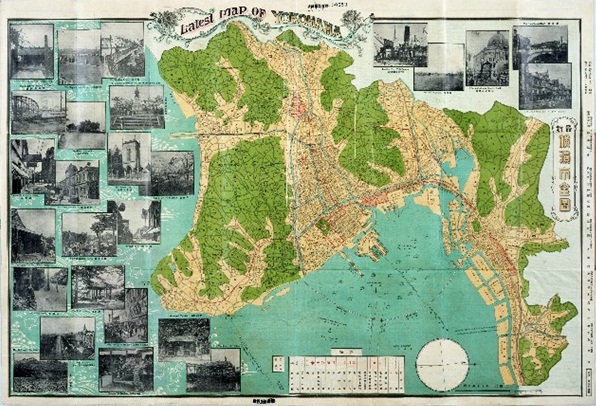 Yokohama-shi performed (1901) first city limits expansion in 1901 and merged kyuryokigun (kurakigun) door big town, Honmoku-mura, Nakamura, Negishi-mura, Tachibana tree county (tachibanagun) Kanagawa-cho, a part of Hodogayacho. Furthermore, we performed (1911), the second city limits expansion in 1911 and merged a part of Tachibana tree county Hodogayacho, a part of Koyasu-mura, a part of kyuryokigunheifuuramura (back irregularity screen), a part of Ooka Kawamura.
34-cho address figure out of Matsukagecho, Minamiyoshidamachi, Yokohama-shi
Sayo Osawa good luck
1914 (1914)
Size: 73.5*104.5cm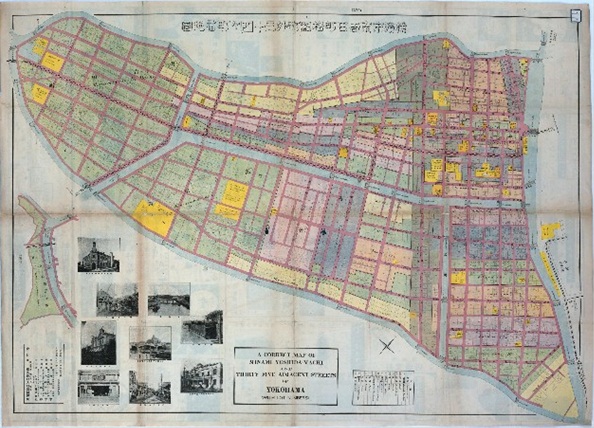 Most have been filled up, but river should have streamed down length and breadth in those days in town and knows now. A lot of playhouse, variety hall, movie theaters stood in line on street of Isezakicho and were Yokohama's best downtown. This whole area was attacked on (1919) April 28 in 1919 by big fire which assumed Chitose-cho cause and suffered serious damage.
Great Japanese Empire land surveying department
1923 (1923)
Size: 65.0*89.8cm
It was made based on investigation of Kanagawa meteorological observatory in the same year to leave as record at the time on map which showed the spread of fire situation of fire that occurred just after the Great Kanto Earthquake from 289 places on (1923) September 1 in 1923. We write in disappearance area, cause, spreading fire, fire streamline, the whirlwind starting point, whirlwind course and fire time with vermilion, and, in figure of 1 per 10,000 land surveying department, state that left when fire is from cause to the shore area is devised so that it is revealed at first sight. (with "book of Yokohama cf. culture" Municipal Central Library opening memory magazine editing committee/edition Municipal Central Library 1994)
With actual survey University Yokohama-shi complete chart revision address of the Showa era
Taro Matsunobu
1929 (1929)
Size: 55*78cm
We performed the third city limits expansion on (1927) April 1 in 1927 and merged Tachibana tree county Tsurumicho, Asahimura, general rules village, castle village (do Satomura), Hodogayacho, Tsuzuki county Nishitani-mura, kyuryokigundaiokakawamura, Kusaka-mura, Byobugaura village. It enforced constituency system on October 1, the same year, and Tsurumi Ward, Kanagawa Ward, Naka Ward, Hodogaya Ward, five wards of Isogo Ward were born.
Isogo Ward belonging to detail drawing [Yokohama-shi] Naka-ku according to Japan occupation
Tokyo traffic company
1936 (1936)
Size: 64*94cm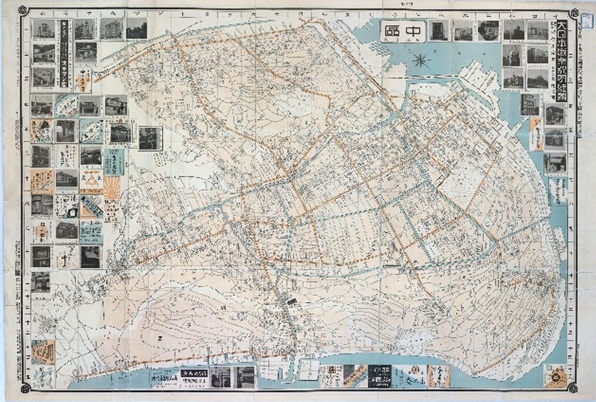 As for the issuance of this map, (1936), Naka Ward (including a part of current Nishi Ward, Minami Ward), Isogo Ward at the time are collected in 1936. We can discover some stores which are open on detailed map which the location such as company, store, bank, government offices is over like today's house map at place in those days same as the present. In addition, we are not seen now, but it is revealed that many ranches were in Honmoku.
Latest; large Yokohama-shi details map
Pattern company
1940 (1940)
Size: 53*75cm
We performed the fourth city limits expansion on (1936) October 1 in 1936 and merged kyuryokigunkinsawacho, Mutsuura-so village, Kamakura county Nagano village. We performed the fifth city limits expansion on (1937) April 1 in 1937 and merged a part of Tachibana tree county Hiyoshi-mura. We performed the sixth city limits expansion that became about the same city limits on (1939) April 1 in 1939 and merged Wadamura, Nakagawa-mura, Seya village, Hongoson among Satomura, Kawawacho, new Tamura, Nakagawa-mura, Sannaimura, capital Okamura, Futamatagawa-mura, Tsukacho, Koozu, Kamakura, Kawakamimura, Toyotamura, Taisho villages among Tsuzuki county Shinji village, Tana villages and founded Kohoku Ward and Totsuka Ward now. As a result, it became 7 constituency systems, and population became city of about 950,000 people.
Inquiry to this page
Board of Education Secretariat Chuo-toshokan investigation Documentation Section
Telephone: 045-262-7336
Telephone: 045-262-7336
Fax: 045-262-0054
E-Mail address [email protected]