light shoes
It is a tour bus that starts at Sakuragicho Station and goes around popular sightseeing spots in Yokohama, such as Akarengasoko and Yokohama-Chinatown.
Final update date April 13, 2021
On April 1, 2021, the red shoes schedule was revised.
New Coronavirus infection prevention efforts
Through the following initiatives, we will create an environment where customers can use it with peace of mind.
I'm out. For customers, wear masks in the car, wash hands and wilt
I. Please cooperate with cough etiquette.
・Disinfectants for customers are installed in the red shoes.
・Forcible ventilation in the bus, ventilation by opening the door at the start and end points, operation with some windows open
・Set up a vinyl partition around the driver's seat
・Regular disinfection around the driver's seat, straps, railings, etc.
・Wearing masks such as bus crews
・Thorough staff hand washing, gargling and disinfection with hand sterilizer
・Thorough staff health management (checking physical condition at the time of roll call, etc.)
Sakuragicho-sta. 10:02 Departure~17:32 Final
Operation every 30 minutes
Sakuragicho-sta. 10:02 Departure~18:27 Final
Operated approximately every 15 minutes
Searching for a timetable for red shoes
Enter the bus stop on the timetable page. You can also choose from the map.
Click the timetable.
Click the timetable of the bus to be boarded to display the timetable.
You can also use PDF files. (PDF: 112KB)
Ticket type and price for red shoes
ticket type
Adults

Children
(1 to 12 years old)

Ride once

Cash and IC Cards: 220 yen

Cash and IC Cards: 110 yen

Minato Burari Ticket
(Yokohama Bay Area 1-day ticket)

500 yen
※"Minato Burari Ticket Wide" is 550 yen
(Municipal Subway Shin-Yokohama Station is available)

250 yen
※"Minato Burari Ticket Wide" is 280 yen
(Municipal Subway Shin-Yokohama Station is available)

Municipal bus one day ticket
(1 day ticket for municipal bus in general)

600 yen
300 yen
※You cannot get on a commuter pass, special Keiro ticket, or special welfare ticket.
Child fare when accompanied by a guardian
Infants (1 year old or older and under 6 years old: Of course preschool children) are free of charge up to 2 parents per guardian when boarding with their parents (6 years old or older).
If your infant rides without your guardian, you will be charged a child fare.
Sakuragicho-sta. Bus Terminal Terminal
The front and back rides.
Please pay the fare at the time of boarding.
For Minato Burari tickets and one-day tickets, please show the date stamp to the crew at the time of boarding.
The Secret of the Red Shoes
It was decided to be "Akai shoes" by open call for participants from Yokohama citizens.
It was perfect for the image that the body color of the retro bus was mainly "red", and that it could be easily used as a nursery rhyme "red shoes" and a new "foot" for sightseeing in Yokohama.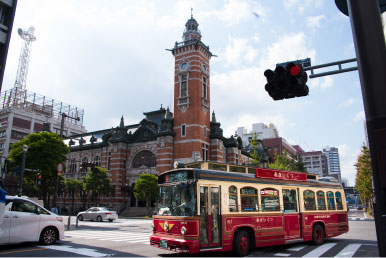 This is a retro-style design inspired by an old tram.
The interior is also particular, with a brick-like design inspired by Akarengasoko-like design, and the image of Minato Yokohama, some vehicles are equipped with bells with boat motifs. Please look for it!
As a matter of fact, all the numbers of red shoes are "150"!
Because we started running to commemorate the 150th anniversary of the opening of Yokohama.
Yokohama sightseeing tour with Minato Burari ticket
English (English) (PDF: 2,173KB)
Simplified characters (PDF: 3,119KB)
Traditional section (PDF: 3,466KB)
Yokohama sightseeing information
For sightseeing in Yokohama, please see Yokohama sightseeing information.

Adobe Acrobat Reader DC (formerly Adobe Reader) is required to open PDF files.
If you do not have it, you can download it free of charge from Adobe.


To download Adobe Acrobat Reader DC
Inquiries to this page