Overall municipal administration (there is no identification of purpose)
※Contribution of personal person for Yokohama-shi becomes a target of tax credit as "hometown tax".
Last update date July 15, 2020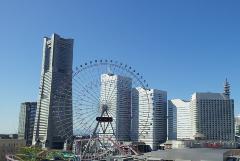 Towards "Yokohama where both people and company shine", we utilize for wide measure including strong town development for child care support and support of achievement of woman, young people, senior, support of company which local, comes, and works, disaster.
Do you not make the future of Yokohama together?
[please be careful!]
Site that pretended that we deal with hometown tax in discount is discovered,
As there are not relations with "hometown tax" to Yokohama-shi at all, please be careful.
Notice
Donor who had you contribute certain amount or more can have you choose no return favor product in "Yokohama Nara" like "Yokohama".
For more details, please refer to this page.
※About contribution from to live by revisions of Local Tax Law in Yokohama-shi from June 1, 2019 to Motoichi, we do not send return favor product.
By credit cards in the case of payment
In the case of payment, apply by credit cards from page of the following hometown tax portal site "hometown choice".
※We do not accept application by mail.
※As you will not send return favor grade when I receive contribution from to live in Yokohama-shi and corporation, group, apply because you do contribution of "article unnecessary of thanks" of the following page.
 
Oldness and choice (Yokohama-shi) (the outside site)
 
In financial institution in the case of payment notice payment
Apply than contribution application or the Internet (electronic application service).
We send payment notice as soon as we confirm application for contribution.
Please go through the procedure in appointed financial institution (bank, Japan Post Bank).
 
Apply for "contribution application" by mail, fax or E-mail after filling out required items to Yokohama-shi Finance Bureau resources section.
※Please download "contribution application" than the following. (divided by "business such as corporation, group" for "individual".)
Contribution application (individual) (word: 26KB)
Contribution application (individual) (PDF: 526KB)
[attached sheet] List of contribution menu common return favor products (PDF: 496KB)

<business such as corporation, group>
Contribution application (corporation, group) (word: 26KB)
Contribution application (corporation, group) (PDF: 511KB)
 
[destination]
〒231-0005 6-50-10, Honcho, Naka-ku, Yokohama-shi Yokohama-shi Finance Bureau resources section
Fax: 045-664-7185
E-mail: [email protected]
 
Electronic application service
We offer my gratitude for person who had you donate to overall municipal administration
Among people who had you donate for from April 1, 2018 to March 31, 2019, only person who had publishes agreement about public announcement of the name (amount of money).
Masataka Shibaoka (10,000 yen)
Combination Kobaikai's representative director Takumi Kawakami
Toshitaka Kameda (2,000 yen)
Yasuyuki Nemoto (50,000 yen)
Ohara style Yokohama Branch's branch manager Nagamori purple Otori
Japan fishing article industry society (8,000 yen)
Inquiry about tax credit system of donation
To Tax Division of municipality (in the case of Yokohama-shi each ward office) to live about subtraction of residence tax
To tax office about subtraction of income tax nearby
Inquiry about overall municipal administration (when there is not hope of purpose particularly)
Finance Bureau Finance Department resources section
Telephone: 045-671-2183
Adobe Acrobat Reader DC (old Adobe Reader) is necessary to open file of Portable Document Format.
Person who does not have can download free of charge from Adobe company.


To downloading of Adobe Acrobat Reader DC
Inquiry to this page
Finance Bureau Finance Department resources section
Telephone: 045-671-2183
Telephone: 045-671-2183
Fax: 045-664-7185
E-Mail address [email protected]