Yokohama-shi DV consultation support center
Last update date May 11, 2020
To person evacuating by the reason of violence from spouse
About special Supplementary Income Payment
When we meet constant requirements, which cannot move resident certificate to municipality to just live by circumstances in evacuating to by the reason of violence from spouse before April 27, 2020 (basic date) applies to municipality to just live including share of companion not family nurturer for Supplementary Income Payment in particular and can receive measures that can receive benefit.
To that end, please confirm the following page as soon as possible as we report to special benefit counter in charge of municipality to live now, and book and confirmation submission of documents are necessary.
It is for evacuating to place where is different from place with resident certificate for violence from relative (parent, child, siblings) and sex violence damage, poor other reasons occurring at the same time compositely.
※ Of "report book" submission is possible after May 1 (would like early if possible).
https://soudanplus.jp/ (the outside site)
It is consultation desk that country (Cabinet Office) establishes.
We accept for email 24 hours
Telephone 9:00-21:00
Chat consultation 12:00-22:00
※Email, SNS supports around ten languages
Yokohama-shi DV consultation support center
Please dial 110 in emergency.
Telephone: 045-671-4275
From Monday to Friday (except holiday) 9:30-16:30
Telephone: 045-865-2040
From Monday to Friday (except fourth Thursday) 9:30-20:00, Saturday, Sundays and holidays 9:30-16:00
※Regardless of sex, we accept. (we take a rest for New Year holidays.)
Violence from spouses is serious human rights violations including criminal act.
We determine and, regardless of sex and relationship of victim, assailant, are not forgiven for any reason.
Yokohama-shi works on prevention of violence from spouses and protection of victim, measure for independence support.
Yokohama-shi DV consultation support center [telephone consultation counter]
Homepage that you looked at is temporarily stored as history. It may be revealed what kind of homepage you read if you click "history" of browser to person sharing family and the same PC. For privacy maintenance, we recommend that we remove history after reading.
Yokohama-shi DV consultation support center guidance flyer
Character design is edition (PDF: 1,050KB)
Plain expression is edition (PDF: 2,336KB)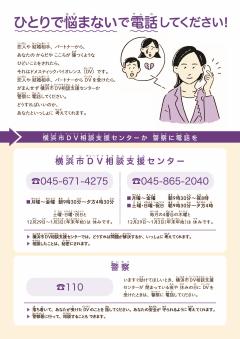 Plain Japanese edition (PDF: 328KB)
Kanagawa DV consultation LINE
Kanagawa DV consultation LINE (the outside site)
We accept consultation from woman troubled with DV, date DV in communication application "LINE" (line).
Tuesday, Thursday (except celebration holiday, New Year holidays) 16:00-21:00
We accept consultation about DV, date DV from spouse and lover in object toward the woman in the prefecture free.
We watch friends and acquaintances not to hand cost of living to make an absurd remark to hit, and to kick and can talk about trouble about various violence.
Small trouble is fine.
Consultation is possible by anonymity.
We keep secret of everybody by all means.

※In the following reference e-mail address, we do not accept consultation.
Adobe Acrobat Reader DC (old Adobe Reader) is necessary to open file of Portable Document Format.
Person who does not have can download free of charge from Adobe company.


To downloading of Adobe Acrobat Reader DC
Inquiry to this page
Policy Bureau gender equality promotion section
Telephone: 045-671-2017
Telephone: 045-671-2017
Fax: 045-663-3431
E-Mail address [email protected]