Designated manager system
Last update date January 15, 2021
For the purpose of planning improvement of citizen service and reduction of expense, we were founded by Local Government Act revision in June, 2003 while utilizing private know-how for management of public facility to be effective, and to cope by citizen's needs that designated manager system diversified effectively.
We came to be able to entrust management administration of public facility limited to investment corporations of public body, public group, local autonomy group conventionally by the foundation of designated manager system to wide group which included private business person.
Q&A (PDF: 127KB) about designated manager system
---
Conventionally, we changed in this way!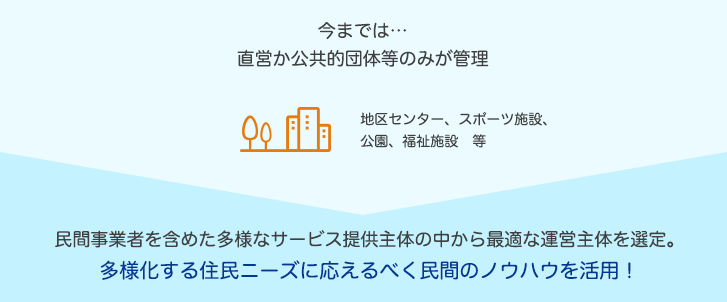 ---
Example of effect by designated manager system introduction

| District center | Park | Sports center |
| --- | --- | --- |
| Holding of English conversation class utilized company's know-how, utilization of junior and senior high school students volunteer | Conduct of gardening course | 19% of cost reduction (we anticipate in 2006) |
---
Difference with management trust system
With management trust system before designated manager system is founded, there is the following difference mainly.
Comparison between management trust system and designated manager system
Management trust system (the old system)
Designated manager system (new system)
The management administration main constituent (the other party to entrust management administration to)

We limit to public body, public group, investment corporation of city
It prescribes the other party in the regulations

Wide group (individual is excluded) including private business person
We get decision of assembly and appoint

Range of authority and duties

Based on contract with local public entity as installer of facility, we carry out desk work of concrete management or duties.
And local public entity as installer has responsibility sequentially, and permission to use facility authority cannot entrust with management authority of facility.

We let you delegate authority about management of facility to designated manager and perform and can perform permission to use facility, too.
Local public entity as installer does not use management authority and performs instructions as needed from situation fulfiling responsibility as installer.

Contents to prescribe in the regulations
Condition, the other party of trust
Range of designated procedure of designated manager, standard of management that designated manager performs and duties
Form of contract
Trust contract
As designation of agreement-designated manager does not correspond to "contract" in Local Government Act, it is not object of "bid" prescribed in the law.
Designated manager system in Yokohama-shi
Basic way of thinking of system operation
In Yokohama-shi, we devise "Yokohama-shi designated manager system operation guidelines" for appropriate operation of designated manager system in October, 2009 and by performing review based on social conditions, push forward continuous improvement of system operation.
Recruitment of designated managers
We assume that we invite public participation widely basics without premising the management administration main constituent in management trust system on choosing designated manager in Yokohama-shi and choose group which is most suitable for each facility. About the offer situation of degree, please see the following page every year.
Third party evaluation system
In Yokohama-shi, we added to report, investigation, instruction based on Local Government Act, and "user meeting" pushed forward approach to let facility administration reflect voice of user by technique such as "user questionnaire" and "opinion, request with telephone and FAX".
We work, and, in addition to such an approach, designated manager oneself is improved and, for the purpose of planning improvement of quality of service, carries out check evaluation by objective multidirectional third party.
Wage level slide in designated manager system
In late years correspondence in designated manager system is demanded that Kanagawa minimum wages rise every year more than 2% and aim at appropriate operational management of public facility through sound management of improvement and company of the employment work conditions because change becomes big.
Therefore, depending on change of wage level that is indication of the social general employment labor circumstances, designated period introduces structure changing designated management charges after the second year sequentially from started facility in after 2018.
About approach for disaster
When it is expected earthquake, storm and flood damage, other disasters in the public facility of Yokohama-shi outbreak or that it occurs, it is set of Yokohama-shi disaster preparedness plan what we use as supplies collection and delivery base and volunteer base, safekeeping facility. We show model while fighting this, and devising "designated manager guide for disaster", and showing some types by characteristic of facility purposes of use such as at the time of disaster about disaster correspondence manual to devise in each facility.
In addition, please inquire for Motoichi disaster preparedness plan to General Affairs Bureau crisis coping Planning Division.
About approach about exhibition of information about management administration duties of public facility
Because high transparency is sought for operation of designated manager system, designated manager makes "information disclosure official regulations" according to "standard official regulations about exhibition of information of designated manager" in conformity with purpose of "the regulations about exhibition of information that Yokohama-shi holds" to work on exhibitions of information to hold about management administration duties of public facility positively, and it is necessary to cope appropriately.
About approach about protection of personal information
It is necessary for designated manager to observe duty regulations that the law determines as "Entities Handling Personal Information" prescribed for "law about protection of personal information". It is necessary to make "standard official regulations about disclosure of possession personal data to hold" according to "standard official regulations about request for disclosure of personal data which designated manager holds" to cope with request for disclosure of possession personal data based on the law appropriately.
About approach for securing of Web accessibility
By "law about cancellation of discrimination on the grounds of person with a disability" enforced on April 1, 2016, securing of information accessibility is placed as "part of rational environmental maintenance to consider". About Web accessibility that is one of the information accessibility, we devise reference example of specifications about matter which designated manager should carry out.
For better facility administration voice of users!
For better administration of the use facility citizen's in Yokohama-shi your; accept "○○ opinion to think that should do by telephone and fax more".
We look forward to opinion, request of users!
Telephone: 045-664-2525
Fax: 045-664-2828
(Reception hours every: on day from 8:00 a.m. to 9:00 p.m.)
Please feel free to contact consultation, inquiry
Adobe Acrobat Reader DC (old Adobe Reader) is necessary to open file of Portable Document Format.
Person who does not have can download free of charge from Adobe company.


To downloading of Adobe Acrobat Reader DC
Inquiry to this page
Policy Bureau cowound promotion room cowound promotion section
Telephone: 045-671-4391
Telephone: 045-671-4391
Fax: 045-664-3501
E-Mail address [email protected]